Welcome to My Imagine Store
Imagine lives and breathes Apple
Established in 2009, Imagine Apple Premium Reseller is having largest geo-wise presence in India, running more than 29 dedicated Apple points of sale and 19 service centers.
We are a community of 400+ Apple lovers who speak your language. Imagine stores are conveniently located near you. You can also shop our complete range of products online at myimaginestore.com and enjoy our free and fast delivery.
Imagine lives and breathes Apple. We can help you choose which Mac, iPhone, Apple Watch or iPad is right for you; give you impartial advice on every aspect of your purchase. We offer the complete range of Mac, iPad, iPhone, Apple Watch and Apple TV together with a full complement of software and accessories, so you can find everything you need in one place. Imagine is the right place to get expert advice if you are a business or professional user wanting to do more with your Apple products.
.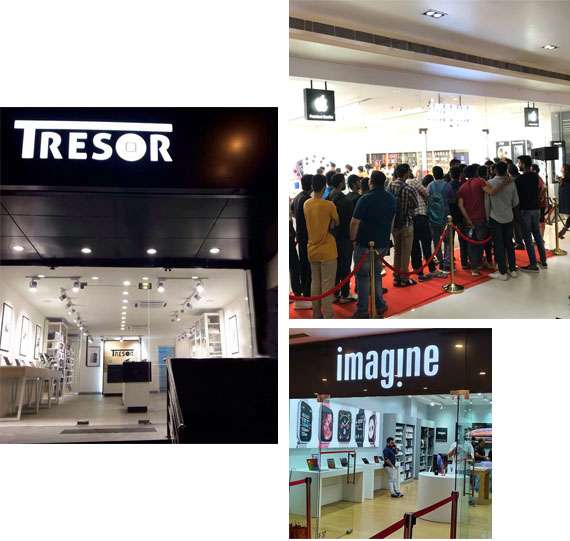 Professional and Trained Staff at Your Service
Imagine is the best place to get your hands on all Apple Products, get demonstrations of the latest Apple products, or attend training and events based around the latest technology.


Imagine offers a wide range of Apple products and third party accessories. Our stores have the assortment of accessories to help buyers get the most out of the product range. Whether you are looking for a MacBook sleeve or an iPad case, the latest Mac accessories or latest music accessories, the store stocks a huge range of accessories for Mac, iPad and iPhone.

Our range of exciting services like Trade in, Affordability Programs, Student Programs, and one to one workshops help our customers upgrade seamlessly to their new apple device. Get peace of mind with 100% genuine products supported by warranty at Apple Authorized Service centres.

Store

Our stores offer a relaxed environment, where you're welcome to try-out the very latest Apple hardware - from iPhone to iPad to Mac! Our staff are friendly, helpful and knowledgeable Apple experts, ready to discuss your needs or issues.

Online

Shop with us 24/7, where ever you are, at our online store. The convenience of online shopping, but with the same level of after-sales service that we offer in our stores, an integrated approach so you get the best from us, however you choose to buy.

Contact-Us

Email :

[email protected]

Call : +91-82874 82874

Head Office

E-44/2, Okhla Industrial Area, Phase II, New Delhi - 110020

Corporate Office

912-914, 9th Floor, Emaar Palm Springs Plaza, Golf Course Road, Sec 54, Gurgaon - 122003
.
Recently I Purchased iPad 9th Generation from my imagine online website. My experience was very nice. Online team was very supportive and impressive. Thank you for giving me fast service my imagine team.

Today I bought AirPods 2nd Gen. Its battery life is very fine. Sound quality is fabulous. Thanks for great staff support. Must visit

Sukh Uppal - Mall of Amritsar, Punjab

Best experience. Supportive staff … I had a very good experience walking here

Sahil Gupta - Shopprix Mall, Meerut

Great to buy Apple iPhone 13 from Imagine Apple store and got very good service

Jind Bajwa - Model Town, Panipat

I was under the impression that all apps are paid but then I visited the Imagine store. Staff cleared my myths. Now I am happy to buy my 1st iPhone. Best experience

Shivam Cruise - Mall of Amritsar

Best service. Great offers and friendly staff. Special thanks to Dinesh/Amit

Golu Prajapati - MI Road, Jaipur

It's been amazing to visit the Imagine Apple store. Good range of 14 series

Dharampreet Singh Bhullar - Elante Mall, Chandigarh

Have great customer service and wonderful staff. Mahesh helped me a lot with everything I wanted

Bhinda Brar - Pratap Road, Moga Punjab

Great services given by staff in the Mall of Amritsar. Special shout out to their offers which they are giving on every product. Bought iPhone 13 from the store on a very good deal

Ansh Zira - Mall of Amritsar, Punjab

Had a great experience. Amazing Staff Mr. Brij dealing. Totally recommended to come to Imagine Apple Store

Sucha Singh Rathour - Sec 35C, Chandigarh